New container tipper: it has already proven itself with an exporter in Africa.
Published on January 14th, 2022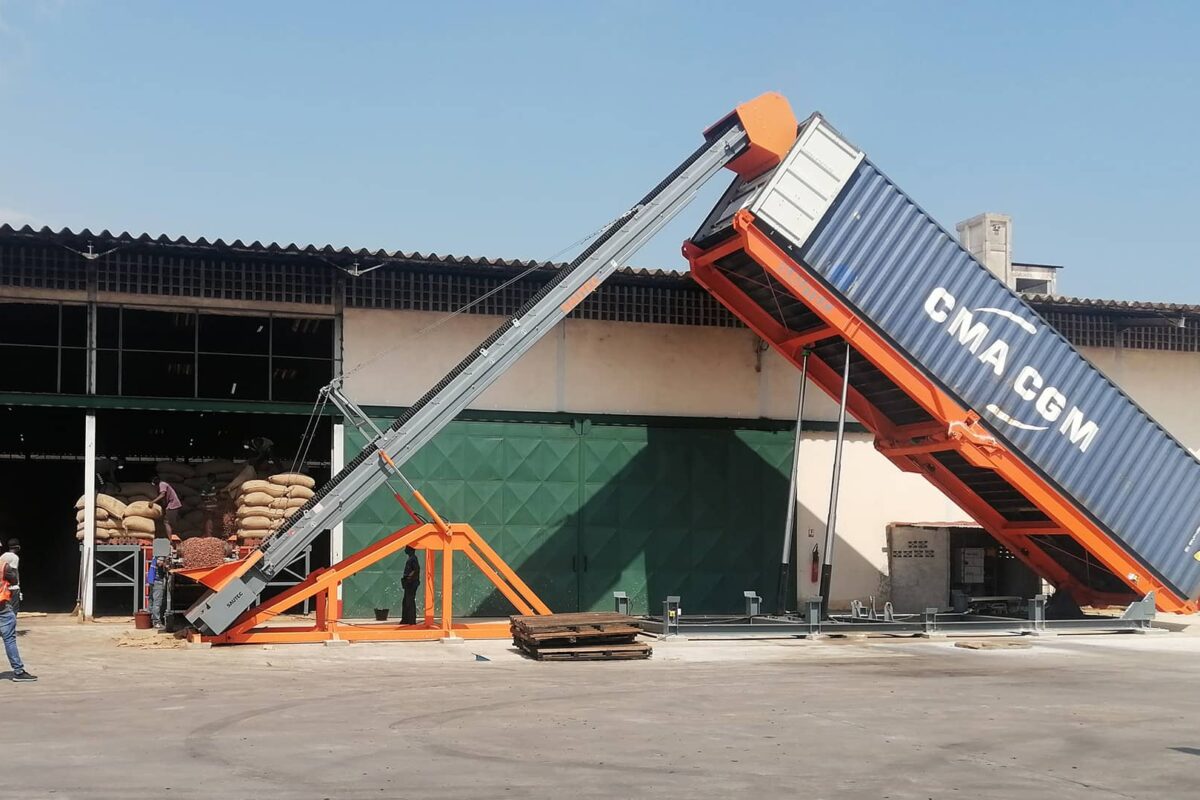 This is the result of several months of work in collaboration with our production teams in Croatia! It's a pride for the technicians and engineers who worked on the project and for the entire SAUTEC team. The studies to develop and manufacture the 2-in-1 container tipper capable of tilting 20' and 40' containers started at the end of 2020. Less than a year later, our first container tipper was delivered to an export client in Ivory Coast. A look back at this adventure, which began with a simple exchange with the client.
Client context.
Increase autonomy and meet deadlines faced with a congested container loading platforms.
ZAMACOM is an Ivorian company that trades, collects and exports cocoa and coffee beans. ZAMACOM is part of ECOM group, one of the world's leading traders of coffee, cocoa and cotton.
In recent years, the shipment of cocoa in bulk to processing countries has grown significantly and has become the majority of the business. Exporters' customers are more interested in receiving beans in bulk, rather than in bags, in order to facilitate unloading operations and optimise container filling.
To cope with this rapid change in the mode of export, exporters have had to call on service providers specialised in bulk loading of containers, thus adding a significant cost to their operations. At the same time, the overloading and congestion of existing bulk loading logistics platforms quickly became apparent, leading to missed deadlines and even penalties for delays from end customers.
It is in this context and during an exchange, that the general manager of ZAMACOM confided to us that he was looking for a simple and affordable solution capable of filling 20' and 40' containers. The objectives: to gain autonomy, control costs and deadlines.
The challenges.
A desire to accompany and satisfy the client in order to meet his needs.
In the past, our client had approached Ivorian companies to manufacture a system for tilting the containers. If promising solutions were found, none of them were entirely satisfactory. Through its experiences, the company was convinced that such a system was difficult to implement without substantial financial resources. Despite the failures, the specifications remained the same: to have only one equipment for the loading of 20' and 40' containers.
Based on our experience in containers and trucks loading, and because we particularly appreciate technical challenges and can rely on a responsive and efficient technical team, we took up the challenge.

About the solution.
More than a container tipper, a complete system from bag opening to containers loading.
After almost 1 year of design and testing, we delivered to ZAMACOM a complete system to carry out bag opening operations, transfer of cocoa beans and loading into containers without stops.
This delivered solution is composed of 3 equipment: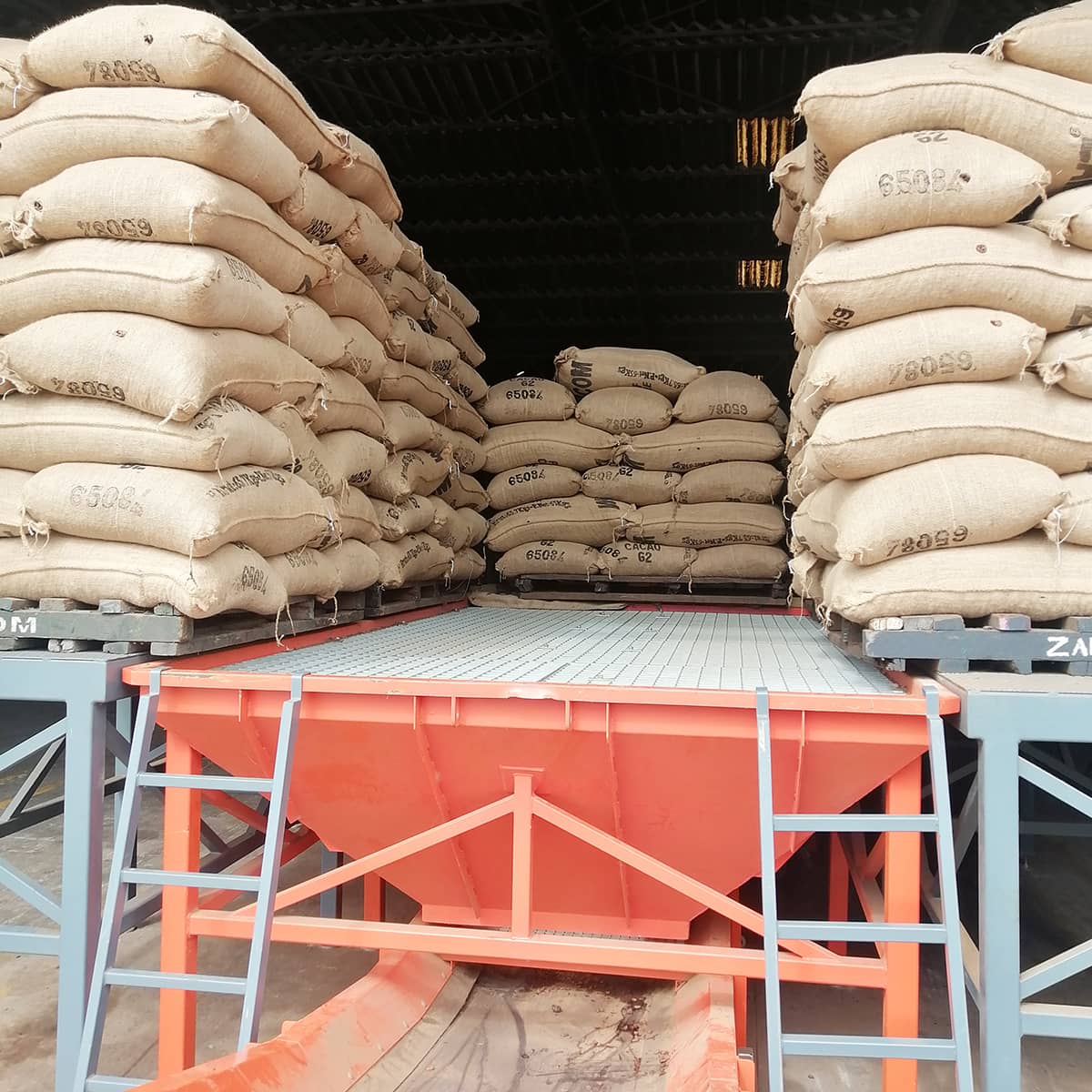 1. The loading conveyor of 8M x 800mm.
A loading conveyor of 8M x 800mm equipped with a buffer hopper and platforms for depositing the pallets. This equipment creates a secure area for cutting the bags. 5 operators can simultaneously cut the bags continuously, even during the setting up of the containers. The bag dumping area has been specially designed to prevent products from falling to the ground and thus minimise losses.
2. The 14M x 1000mm slatted conveyor belt.
A 14M x 1000mm slatted conveyor belt. This is fed by the loading conveyor and ensures that the cocoa is elevated to the container at a high rate of throughput.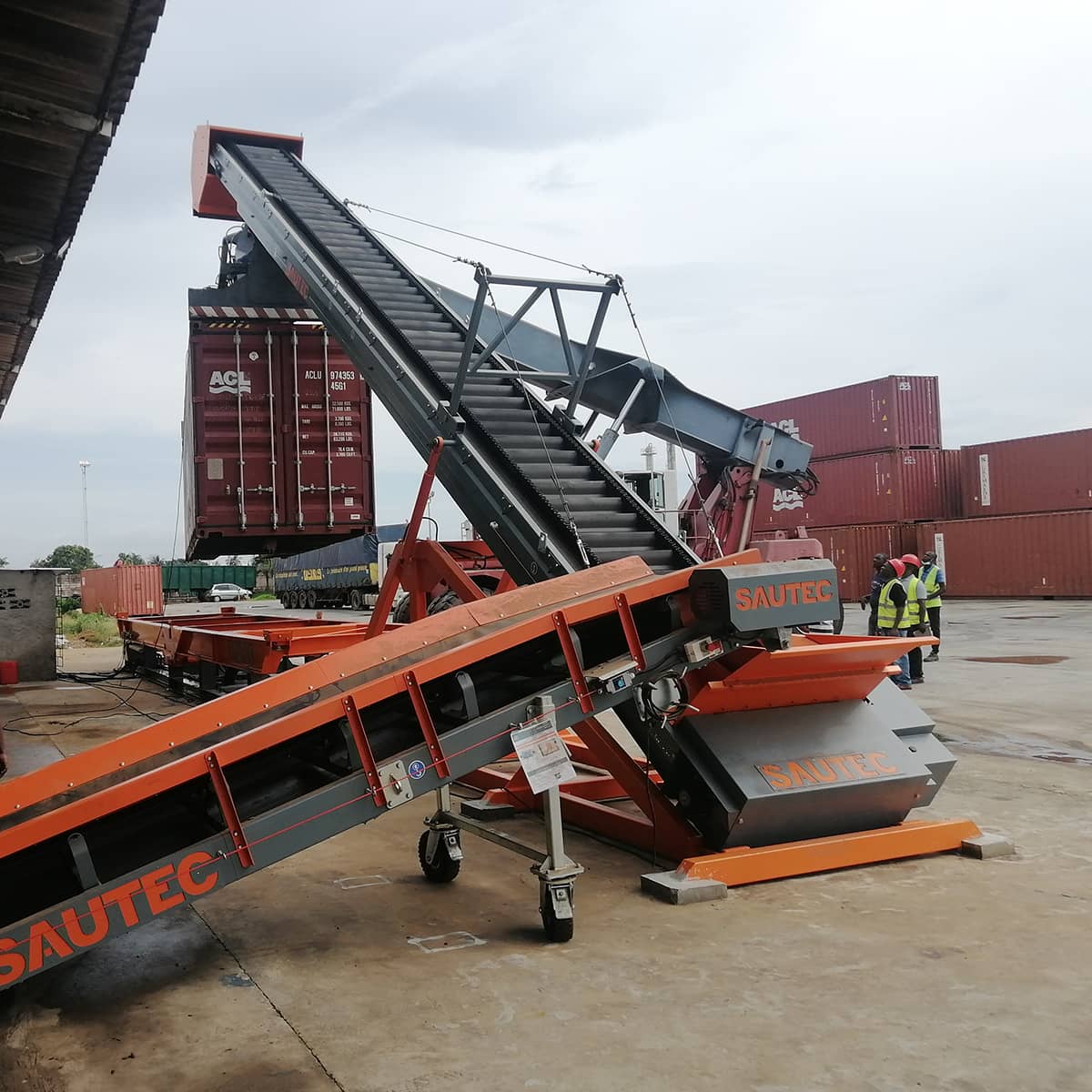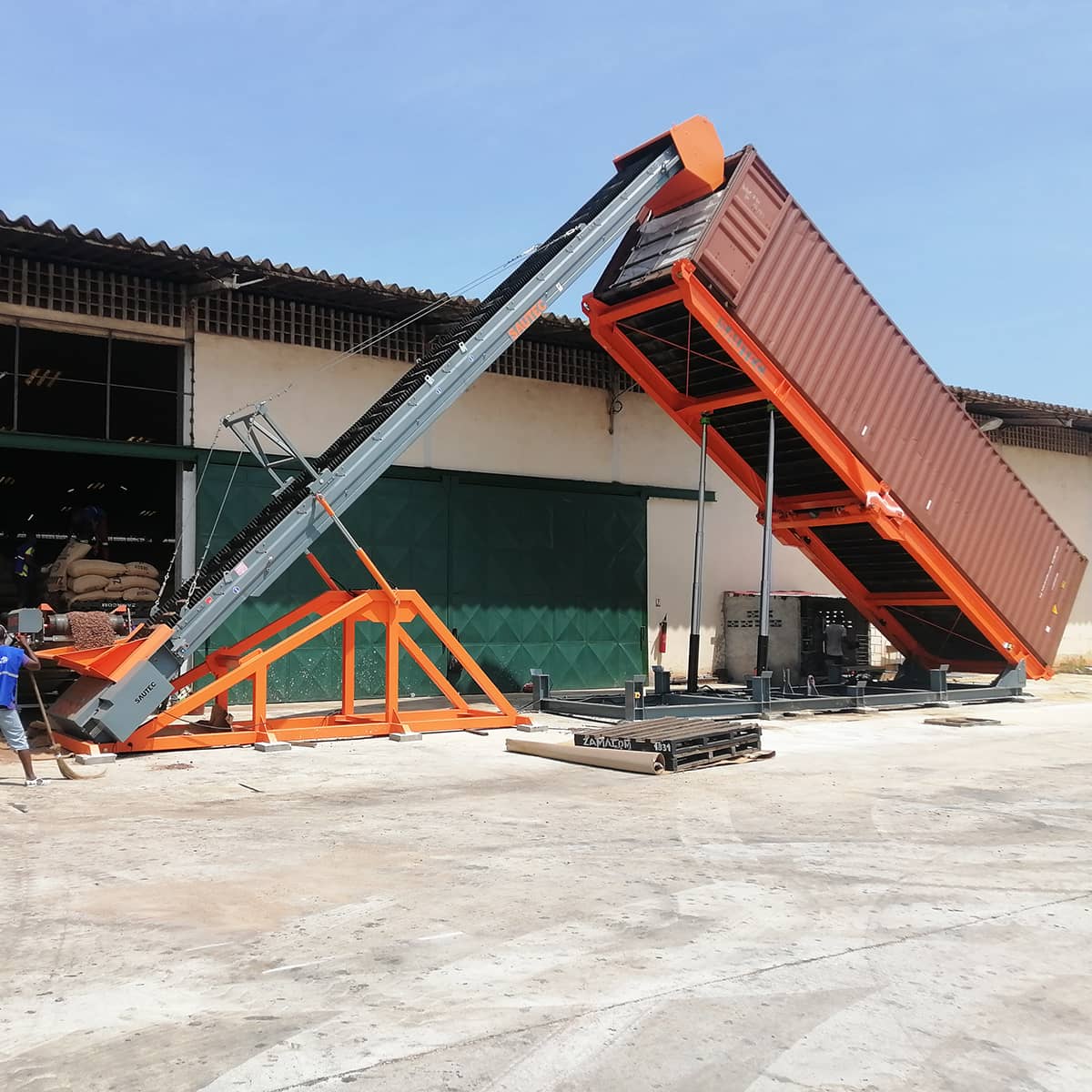 3. The 2-in-1 container tipper.
Finally, the 2-in-1 container tipper allows the containers to be tilted between 40° and 60°. Thanks to gravity, the containers can be filled completely. Using a challenger or reachstaker, the customer can place the container on the tipper and then control the tilt of the container using a remote control.
The entire solution provided is designed to meet the customer's current activities and also to adapt to future developments. For example, each equipment supplied can be easily moved. No civil engineering is required, assembly operations are fast. All the equipment can be moved on site or to another site to follow our customer's evolutions.
Local services to be as close as possible to our clients' needs.
With the creation of our subsidiary in Ivory Coast, SAUTEC CI, we have taken a step forward in supporting our clients by offering local services. On behalf of ZAMACOM, we have provided the following services:
Supervision of assembly operations. 2 weeks were necessary to assemble the equipment delivered by container. A crane and 2 forklifts were required.
Testing and last fine-tuning to ensure that everything was working properly.
Training the operators in the correct use of the equipment and in maintenance.
Customisation of the solution by adding and modifying some elements by Ivorian technicians.
Benefits for the client.
Deadline compliance, cost control and a new source of income.
The benefits have more than lived up to the client's expectations. Today, it takes between 15 and 20 minutes to load a 40' container, and less than 10 minutes for a 20' container. Thanks to our equipment, ZAMACOM has achieved its objectives of cost and time control. The company also benefits from a new source of income as it now performs container stuffing for other exporters!